Supreme Court steers clear of case involving Obama Senate seat
The Supreme Court left in place an appeals-court ruling that then-Gov. Rod Blagojevich's 2008 appointment of Roland Burris to the US Senate violated an often-overlooked clause in the 17th Amendment.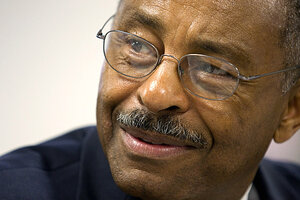 Stephen Haas / Decatur Herald & Review / AP
The US Supreme Court on Monday refused to enter a legal dispute over whether Illinois officials complied with the Constitution's 17th Amendment when they filled the US Senate seat left vacant by President Obama.
In declining to take up appeals filed by Illinois Gov. Pat Quinn (D) and former Sen. Roland Burris (D), the high court let stand a federal appeals court's decision that the senate-vacancy procedure in Illinois was unconstitutional.
Illinois law empowered the governor to appoint a replacement to serve the remainder of any vacant US Senate term. But a three-judge panel of the Seventh US Circuit Court of Appeals in Chicago ruled in June 2010 that Illinois' procedure was unconstitutional under the 17th Amendment unless the state also held a special election.
Nineteen states have laws similar to the Illinois measure, relying exclusively on appointments rather than special elections to fill senate vacancies. And the decision could have a broader effect. According to one analysis, if applied nationally, the appeals court's decision would cast constitutional doubt on the Senate-vacancy procedures currently used by 42 states.
---