Fukushima meltdown could be template for nuclear terrorism, study says
The Fukushima meltdown showed how some nuclear plants are vulnerable to cooling-system failures. That might be of interest to Al Qaeda, which considered attacking US nuclear facilities after 9/11, a new study says.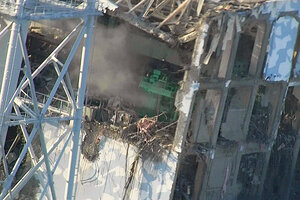 Tokyo Electric Power Co./AP/File
The Fukushima disaster's dramatic demonstration of how nuclear plants are vulnerable to cooling-system failure could "awaken terrorist interest" in attacking such plants, says a new joint study by US and Russian experts on the threat of nuclear terrorism.
After 9/11, Al Qaeda operatives were reported to have to have conducted light reconnaissance of US nuclear reactor facilities. But beefed up defenses apparently led the terror group's leadership to conclude "it would be too difficult either to crash a plane into a nuclear facility or to sabotage a plant," says the report released Monday by the Belfer Center for Science and International Affairs at Harvard's Kennedy School of Government.
Now, however, Fukushima's multiple meltdowns could alter that line of thinking, says the "US-Russia Joint Threat Assessment on Nuclear Terrorism," whose authors include former CIA officials, Russian nuclear specialists, and nuclear proliferation experts.
"One important lesson of the Chernobyl and Fukushima accidents is that what can happen as a result of an accident can also happen as a result of a premeditated action," the report says. "Indeed, today's high levels of nuclear safety are dependent on the high reliability of components such as cooling systems; if these are intentionally destroyed, the probability of a large release would increase greatly."
---