Solar storm delivers a glancing blow to Earth – and a warning
The solar storm caused by a massive eruption two days ago arrived at Earth Wednesday, but it was only a taste of what scientists say might come – and the world is not prepared.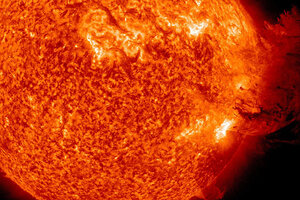 NASA/REUTERS
Charged particles from a huge solar eruption two days ago delivered only a glancing blow to Earth Thursday.
But it still represented a warning. Solar activity is approaching the 2013 peak of its 11-year cycle, called the "solar maximum," and the developed world finds itself ever more dependent on systems vulnerable to massive solar storms.
Perhaps most important, the power grid is 10 times larger than it was in 1921, when the last solar superstorm hit, effectively making it a giant new antenna for geomagnetic current. A far stronger solar outburst could overload and wreck hundreds of critical high-voltage transformers nationwide, blacking out 130 million people for months and costing as much as $2 trillion, according to an Oak Ridge National Laboratory study.
"When we look back through history, we can see the thumbprint of these extreme events that were a lot worse in their intensity than anything seen in the modern space era," says Daniel Baker, director of the Laboratory for Atmospheric and Space Physics at the University of Colorado at Boulder, who chaired a seminal 2008 National Research Council study on solar weather's impact on the North American power grid.
---