Europe's E. coli outbreak: Does new food safety law prevent that in US?
A new US food safety regimen became law in January. It expands government regulation of growers, but it's not clear Congress will allot enough funds to implement and enforce the law.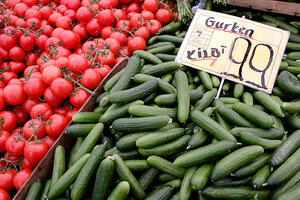 Michael Sohn/AP
Scientists on Friday blamed contaminated vegetable sprouts for the E. coli outbreak that began in northern Germany and that public health officials say has killed 31 people and sickened nearly 3,100 others throughout Europe.
The deadly outbreak prompts this question in America: How safe is our own farm food?
Congress passed the Food Safety Modernization Act late last year after a series of similar, though less severe, outbreaks of food-borne illness in the US. The law, which President Obama signed in January, allows for greatly expanded regulation of domestic and imported fruits and vegetables.
While the law's scope is unprecedented, some gaps remain, as do questions about funding and enforcement.
"It's an important and historic advance in how food will be protected in the United States," says Erik Olson, director of food programs for the Pew Health Group in Washington, D.C.
But, Mr. Olson adds, if the new law is not fully financed and implemented, "We are worried that the kinds of things that are happening in Europe right now could come to our shores at any time."
The Food Safety Modernization Act gives broad new regulatory powers to the Food and Drug Administration, the federal agency responsible for the safety of the processed food, dairy products, and produce that Americans eat. The law, which passed with bipartisan support, authorizes the FDA to inspect food imports, order recalls of tainted food, and regulate safety practices on produce farms.
---