Gabrielle Giffords photos inspire friends and strangers alike
New photos of Rep. Gabrielle Giffords, who was shot in the Tucson attack in January, bring relief at evident progress. She still struggles to communicate, but friends say "she looks beautiful."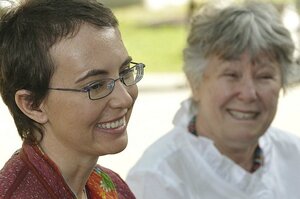 P.K. Weis/ Giffords Campaign/AP
Her hair is no longer long and blonde now; it's short and dark. But the first photos of US Rep. Gabrielle Giffords taken since she was shot in the head in January show a smiling, engaged woman with barely a trace of the physical wounds resulting from the attack that killed or injured 19 other people in Tucson, Ariz.
The photos, posted to Rep. Giffords' Facebook page Sunday morning, are an important step in a story of private perserverance and recovery as well as public soul-searching about gun violence and political rhetoric in America today.
Those close to Giffords say that while she's made steady improvement in her communication and other skills, there is still far to go in her rehabilitation. But for now, the photos offer a kind of proof of that rehabilitation, a relief at seeing evident progress.
Rep. Gabrielle Giffords and 5 other profiles in perseverance
"It was very inspiring to see how much she had recovered," said P.K. Weis, the veteran photographer who's known Giffords for years and was invited to take the photos.
"I was excited to see her and to see her smile," Weis said on Giffords' Facebook page. "She was glad to see me, was in a good mood, smiling and laughing and seemed to enjoy the experience. I certainly did, too."
Others who know her were similarly impressed.
---
Follow Stories Like This
Get the Monitor stories you care about delivered to your inbox.