Time to pitch your tent ... in New York City? US touts urban camping plan.
US plan to create 'great urban parks' set to begin in New York City, Interior Secretary Ken Salazar said Monday. It's part of Obama's bid to reconnect young people with the great outdoors.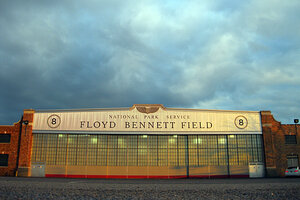 Chris Hawley/AP/File
Nothing says camping like a charcoal grill, a tent next to an open fire ... and a clear view of the New York City skyline?
So says Interior Secretary Ken Salazar, who announced plans Monday to extend trails around New York Harbor, draw new visitors to the area's 10 national parks, and transform a small camping area into America's largest urban campground.
"What we are doing in New York," Mr. Salazar said in Brooklyn at the future site of the campground in Jamaica Bay, "will create a model for a new generation of great urban parks in America."
Visitors today can choose from five campsites at Floyd Bennett Field, which served as New York's first municipal airport in the 1930s and has been part of the Gateway National Recreation Area since 1972. The National Park Service plans to expand the campground to 90 sites within the next two years – and up to 600 sites when eventually completed.
---