Forget '.com,' are you ready for '.bank' or '.Vegas'? ICANN opens the door.
ICANN, the group that manages the use of Internet suffixes such as '.com,' has announced that next year, websites can make their own suffixes. With a big fee involved, not everyone will do it, but the move could unleash reams of new suffixes on web surfers.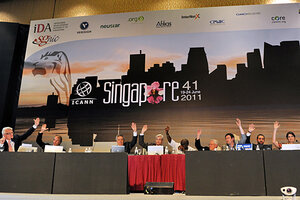 Roslan Rahman/AFP/Newscom
The Internet is already the world's central forum for publicizing just about anything, from pet food to the personal brands of aspiring rock stars. Now, the web's role as a marketing platform is poised to expand even further, as the regulatory body known as ICANN on Monday opened the door to a broadening range of website names.
Think of it as a cyberspace land rush, as companies and others try to stake claims to websites ending with names like ".bank."
Come next year, an era when site names ended in a handful of predictable ways like ".com" or ".gov" draws to a close. ICANN, which stands for the Internet Corporation for Assigned Names and Numbers, says it will accept applications for domains with new suffixes that could range from corporate names (like ".Apple" or ".Canon") to more generic terms (like ".bank" or ".Vegas").
The result could be an explosion of new web handles, starting next year. The application process opens up Jan. 12, followed by a period during which ICANN will sort out approvals and potentially auction some names sought by more than one party.
"ICANN has opened the Internet's naming system to unleash the global human imagination," ICANN president Rod Beckstrom said in a statement after the vote by the group's board. "We hope this allows the domain name system to better serve all of mankind."
Although it has taken on a regulatory role for website naming, ICANN is a not-for-profit, nongovernmental group. By its own description, its role as a coordinator of naming policies gives it "an important impact on the expansion and evolution of the Internet."
---