US to tap Strategic Petroleum Reserve to drive gas prices down
Energy Secretary Stephen Chu cites crude oil disruptions in Libya and elsewhere as reason to open the Strategic Petroleum Reserve now. Gas prices, however, have been falling in recent weeks.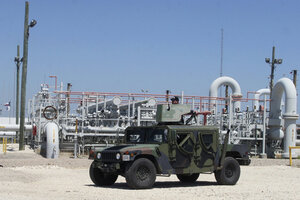 Donna W. Carson/Reuters/File
The Department of Energy is opening up the oil taps at the Strategic Petroleum Reserve in a bid to reduce the price of energy.
In a surprise announcement Thursday, US Energy Secretary Steven Chu says the US and its 27 partners in the International Energy Agency will pump 60 million barrels of oil into the world markets over the next 30 days. This represents about 2.4 percent of world oil production.
The US contribution from the Strategic Petroleum Reserve (SPR) will be 30 million barrels of oil, or about 1 million barrels per day. The US uses about 18 million barrels of oil per day.
The main reason for the release is the "ongoing loss of crude oil due to the disruptions in Libya and other countries and their impact on the global recovery," Mr. Chu said via a press release.
In a background briefing for journalists, senior officials at the White House said some 140 million barrels of oil had been lost to the market as a result of turmoil in Libya. The last time the US released oil from the SPR was after hurricane Katrina shut down oil production in the Gulf, in 2005. Then, the US released 38 million barrels of oil to help refiners supply petroleum products.
---