Top GOP fundraiser: 'There's not too much money in politics'
Mike Duncan of the conservative PAC American Crossroads said Friday $120 million is his group's fundraising goal for Election 2012. That's short of what Big Labor spent for Obama in 2008, he notes.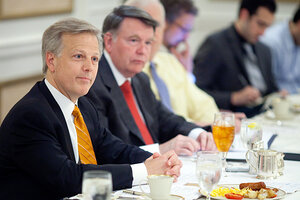 Michael Bonfigli/The Christian Science Monitor
Is politics awash with too much money?
Mike Duncan, chairman of American Crossroads, doesn't think so. His group, which solicits money to spend on behalf of conservative politicians, aims to raise $120 million to support GOP candidates in the 2012 election.
"There is not too much money in politics," Mr. Duncan said Friday, in defense of his group's goal.
It is a matter of context, Duncan said at a Monitor-sponsored breakfast with reporters. "Our $120 million is in relation to a couple billion [dollars] on the other side.... We will probably be outspent as a party in this election."
In 2008, the Obama campaign raised $750 million. The Obama team is expected to spend more than that trying to get the president reelected in 2012.
American Crossroads, a Republican-backed independent group, was launched by Karl Rove, President Bush's former political adviser, among others. Mr. Rove acted after a 2010 Supreme Court decision, in Citizens United v. Federal Election Commission, made it permissible for "super PACs" to raise unlimited amounts of money from individuals, corporations, and unions, as long as the donors are disclosed and the groups do not coordinate their spending with federal candidates.
The $120 million goal includes funds that would be raised by American Crossroads, a tax-exempt 527 organization under Internal Revenue Service rules, and its affiliate, Crossroads GPS, a 501(c)4 group. Under the law, Crossroads GPS is not required to disclose donors' names to the public.
Crossroads President and CEO Steven Law said labor unions reported spending $400 million in support of Democratic candidates in the 2008 election. He expects similar spending by labor groups in 2012. Of his organization's $120 million goal, Mr. Law said: "We are going to need every penny of it to have a chance of keeping up with the much larger dollars that we expect to be poured in by the left."
---
Follow Stories Like This
Get the Monitor stories you care about delivered to your inbox.