LulzSec says it's stopped hacking, but criminal case against it gains steam
Those behind LulzSec – which forced the CIA's public website down and hacked Sony, among other things – are among the most wanted cyber-criminals.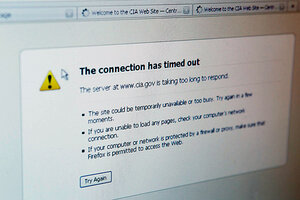 Jim Bourg/Reuters
The heat is still growing for a group of perhaps six to eight people believed to be behind Lulz Security, even though the flamboyant social-media-savvy enterprise suddenly announced over the weekend that it would stop hacking government and business computers.
Just a few days ago, the group was yucking it up, grandstanding for its 280,000 Twitter followers (up from 100,000 just over a week ago). On Thursday, it exulted in posting law-enforcement information stolen from the Arizona Department of Public Safety. Then on Sunday, it announced it was retiring from hacking.
"Our planned 50 day cruise has expired," the group wrote in a post, "and we must now sail into the distance, leaving behind – we hope – inspiration, fear, denial, happiness, approval, disapproval, mockery, embarrassment, thoughtfulness, jealousy, hate, even love."
It added, "If anything, we hope we had a microscopic impact on someone, somewhere. Anywhere." The group also encouraged others to imitate its cyberattacking ways.
But the wisecracker hackers – who forced the Central Intelligence Agency's public website down, hacked Sony, and tossed 62,000 passwords and e-mail addresses across the Internet like confetti – still remain among the most wanted cyber-criminals, cybersecurity experts say.
---