In Astoria, Queens, the far-away financial crisis in Greece is a local story
On the streets of Astoria, Queens, where signs are in Greek and English, there are no whiffs of tear-gas, but passions run high. Despite words of blunt criticism, many wonder how they can help.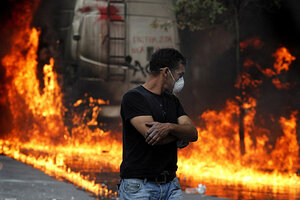 Petros Giannakouris/AP
For Americans not tracking the plight of financial markets, the scenes of rioters and tear gas in Athens, not to mention the whole issue of restructuring an entire country's debts, may seem a long way away.
But, not for the residents of Astoria, Queens, where storefronts have names in Greek and English.
Greek-Americans are glued to television sets showing the shifting political events in Athens. They talk at coffee shops and bemoan how relatives are having a rough time. And, many of the 1.38 million Americans with some Greek heritage are scratching their heads, wondering if there is anything they can do to help.
"The current situation has galvanized a lot of discussion among individuals and organizations about how Greeks can be of assistance," says Dean Sirigos, a reporter on the National Herald, the main newspaper for the Greek-American community in the United States. "Greeks have a very entrepreneurial spirit."
Although they may want to help, they are also not afraid to be critical of the Greek government or their friends back in Athens.
One of those who is critical is Jimmy Theodoridis, owner of Astoria Fishery. He still has a house in Greece even though he has lived in America for 35 years. As he watches over commerce at his store, he says the Greek people don't like to pay taxes. "They have to understand, they have to pay into the system," he says.
Mr. Theodoridis says the rioting in Athens will not deter his wife and children from traveling to Greece next week. "I'm far more worried about their driving on the roads over the weekend," he says. "The way Greeks drive on the weekends," he says, indicating this is not something for those not used to white knuckle experiences.
---