Final shuttle mission: Who'll supply the International Space Station now?
Atlantis and its four-member crew, in the final mission of the space shuttle program, shrugged off concerns about the weather and took off for one last supply run to the International Space Station.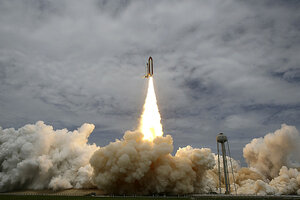 Pierre Ducharme/Reuters
With one last fiery blast from its massive main engines and one last, iconic, 180-degree roll after liftoff, the space shuttle Atlantis and its four-member crew roared into orbit Friday to begin the final voyage of the 39-year shuttle program.
The primary goal of the 12-day mission is to make a final delivery run to the International Space Station, leaving it as stocked as possible. Although the Europeans, Japan, and Russia will continue to deliver supplies in the shuttle's absence, none of their vehicles have the cargo capacity a shuttle could deliver.
The mission also provides insurance against any delays that might occur as commercial companies take cargo-delivery, and eventually the crew-delivery, batons from NASA.
With an eye toward the future, the shuttle also is carrying experimental gear to demonstrate an ability to robotically refuel satellites not originally designed for in-orbit top-offs. Such a capability would extend the life of expensive communications satellites, which would drop down to the station's altitude from higher orbits. But it also figures in plans for human space exploration, which often envision an in-space fueling or refueling capability.
Despite concerns about the weather – including a direct hit on the pad by lightning on Thursday – and a last-seconds halt to the countdown because of a false reading from a key piece of hardware on the launch pad, the launch was essentially picture-perfect.
---