South's 'extreme drought' could be felt at supermarkets soon
The price of beef is set to skyrocket in the fall as a cattle shortage takes shape. Pastures are dying from the drought and ranchers are selling their cattle rather than buying costly feed.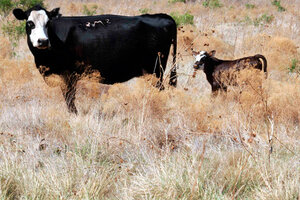 Elliott Blackburn/REUTERS/File
The extreme drought conditions throughout the South and as far west as California that stoked record-setting wildfires are increasingly taking their toll on cattle ranchers, a development that could lead to sticker shock at grocery stores in the fall.
With grassland pastures dying and feed prohibitively expensive for many ranchers, huge stocks of cattle are being sold off, setting up a shortage that could dramatically drive up the price of beef for months or even years.
"If you like steak and cheap, good ones, now is the time to eat them," says John Michael Riley, an extension agricultural economist at Mississippi State University in Starkville. "What it is going to mean is the long run is that there will be a shortage on beef or cattle. This the start of something that we could see for a number of years."
The National Weather Service has declared many areas of the United States to be in an "exceptional drought" with above-average temperatures and no relief in sight. Ranchers in Texas, the country's largest producer of cattle, have been dealing with dire conditions since early spring, when many unloaded their cattle and saturated the market.
---