British phone-hacking scandal: Could it happen in the US?
Media watchdogs want the federal government to investigate Rupert Murdoch's media holdings in the US. The deeper question is whether US newspapers might be prone to similar behavior.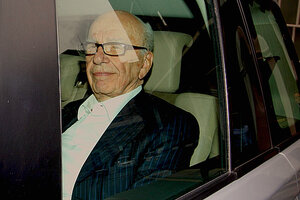 Andrew Winning / Reuters
As the scandal enveloping Rupert Murdoch's media empire expands in Britain, questions are arising on this side of the Atlantic about the scope of News Corp.'s alleged illicit behavior in the US and whether American media might be prone to similar missteps.
Media watchdog groups wanting to know whether the scandal reached the US are pushing for investigations from the US Department of Justice, the FBI, and the Securities and Exchange Commission. Media reports allege that at least one New York City private investigator was offered money to help hack the phone records of 9/11 victims, says attorney Kevin Zeese, who works for Protect Our Elections, a grass-roots activist group.
"Unless we act now, and act quickly," says Mr. Zeese, "this [is a problem] will only continue to spread."
---