Wisconsin recall elections begin, a legacy of Scott Walker's labor union wars
Nine Wisconsin senators are targets of recall elections, some of which got under way Tuesday. If Democrats pick up seats, it would signal a voter backlash against GOP Gov. Scott Walker and his tough stance toward labor unions.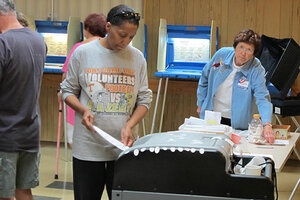 Dinesh Ramde/AP
Remember the Wisconsin recall efforts, in which angry voters on both sides of the aisle sought to punish state lawmakers for their roles in Gov. Scott Walker's controversial move to end collective bargaining and other union rights?
On Tuesday, voters in a handful of districts can finally weigh in on those lawmakers targeted in the recalls. It's possible – but unlikely – that the elections could even change the power dynamic in the state Senate, if Democrats were to gain the three seats they need to take control.
The recall elections will gauge the political pulse in a highly divided state that is likely to be a pivotal swing state in the 2012 presidential contest.
"This is the first real electoral test of the staying power of the [collective bargaining] issue," says Jeff Mayers, president of Wispolitics.com, a nonpartisan political website in Madison. "Does it have electoral legs – that's what everyone is watching to see."
But don't look for answers right away.
Tuesday's vote is just the first of four elections that will take place over the next month, in a complex series of primaries and general elections that is sending voters to the polls at an odd time of year.
---