Human trafficking: Private citizens deputized in the global fight
Travel companies, airlines, and other parts of corporate America are starting to provide training programs to help employees recognize human trafficking. Will heightened awareness help detect more trafficking cases?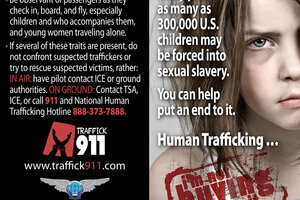 Courtesy of Airline Ambassadors International
Patty McPeak had no ink-ling that her new training on how to spot human trafficking would be put to use so quickly.
Traveling from the Dominican Republic back to the United States after a humanitarian mission, Ms. McPeak was in the airport boarding area when a man and a little girl sitting nearby drew her attention. The man seemed to know little about his young companion, according to testimony McPeak submitted to Congress last July, and he became nervous as she struck up a conversation and asked questions.
The girl, who was about 4, started to speak, but the man whisked her off to the restroom. When they returned, the child appeared unconscious. McPeak, suspecting she had been drugged, alerted flight personnel. Authorities later confirmed that the man had been apprehended for human trafficking.
That incident, from October 2009, was one of the first fruits of a nascent effort to train people in the private sector – especially employees of airlines and hotels – to detect human trafficking. The involvement of corporations and nonprofit groups, such as Airline Ambassadors International (AAI), is still at an early stage, but already it is proving to be a valuable addition to the government and law-enforcement fight against the modern-day version of an age-old scourge.
---