How the BSkyB setback to Rupert Murdoch will affect his legacy in the US
The news that Rupert Murdoch, owner of Fox News and The Wall Street Journal, dropped his bid to take over the BSkyB network raises questions about his ability to maintain his influence in the US.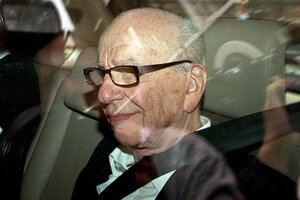 Sang Tan/AP
Media mogul Rupert Murdoch's empire continues to shudder under allegations of illegal phone hacking and bribery of public officials with an impending summons to testify before the British Parliament.
But Wednesday's news that the Australian businessman has dropped his bid to take over the lucrative BSkyB broadcasting network after closing the iconic tabloid paper, News of the World, raises questions about Mr. Murdoch's ability to maintain his influence both in Britain and the US, where he has been acquiring media properties for years.
"His business may survive," says Richard Levick, president of Levick Strategic communications, a global firm specializing in crisis management, "but his legacy will not."
While Murdoch may be able to regroup the long-term strategy for his media empire predicated on acquiring BSkyB, the largest broadcasting network in Britain, he will not be able to downplay the magnitude of what are now mounting criminal charges, Mr. Levick says.
Calling the breadth of the downfall, "Shakespearean," Levick points out that alongside his reputation for great business acumen, Murdoch was also known as someone who "always saw himself as the little guy fighting against the Man, such as big government."
Now, however, Levick asserts, what Murdoch will be remembered for are the journalistic excesses that led to his empire's stunning setback: the scandalous, long-term abuse of the least fortunate among us – "a 13-year-old murder victim, deceased veterans of foreign wars, and victims of the 9/11 attacks."
---
Follow Stories Like This
Get the Monitor stories you care about delivered to your inbox.