Central US steams in a 'heat dome.' Mid-Atlantic braces for same.
A 'heat dome' has settled over 17 states in the central US, where it is likely to stay for several days. Temperatures will feel hotter than 110 degrees F. in some places.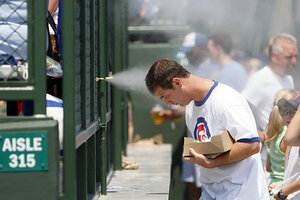 Charles Cherney/AP
Triple-digit temperatures are in store for the central United States this week, as a giant "heat dome" settles over 17 states before shifting to the mid-Atlantic region as early as Wednesday.
The sweltering heat is the result of a high-pressure system that has anchored itself in the middle of the country, where it will remain for several days. Temperatures between 100 to 110 degrees F. are expected each afternoon this week throughout the southern and central Plains states, particularly Illinois, Wisconsin, Minnesota, Iowa, Missouri, Kansas, Nebraska, Oklahoma, as well as South and North Dakota. Heat index values mean it will feel even hotter.
---