Heat wave: Can the power grid handle it?
With the upper half of the US in the grip of a heat wave, energy usage is hitting records or near-records. But grid operators say they are prepared for the increased demand.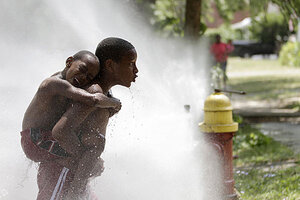 Jarrad Henderson/Detroit Free Press/AP
Soaring temperatures in the upper half of the United States are creating a heavier-than-normal demand on the nation's power resources. Usage is just shy of breaking records, but transmission grid operators say they have plans in place to deal with any unforeseen failures.
The heat wave across the Midwest, Ohio Valley, and mid-Atlantic states is expected to continue through Friday, according to the National Weather Service. In some areas, the temperature is expected to feel like 115 degrees F. Cooling is expected to start Saturday.
The extreme heat, and the subsequent reliance on air conditioning, are likely to "put a lot of strain on the grid," says US Energy Secretary Steven Chu. The situation, Secretary Chu told reporters Thursday, has not yet reached a crisis point, but his agency is prepared to "spring into action" if blackouts occur.
"The main thing is the utility companies work with their customers and try to moderate demand, especially in the afternoon peak when [air conditioning] usage might be high," he said.
That's what spokesperson Paula DuPont-Kidd says her company, PJM Interconnection, will be doing if needed. The regional transmission organization is prepared to ask certain consumers, such as a local manufacturer or school system, to reduce their power load in exchange for payment.
---