Heat wave: federal program to help needy pay cooling bills is broke
Budget cutting means that the federal fund for helping needy Americans pay higher electric bills in the winter and summer had already run out of cash before the current heat wave hit.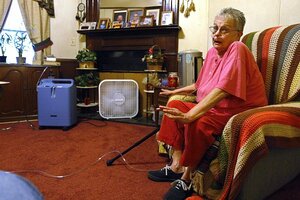 Sue Ogrocki/AP
Robert "Bo" Chilton, who heads a social service center in Columbus, Ohio, noticed an ambulance outside his office this week. When he spoke to his staff, he found out that an elderly man and woman had both collapsed from heat exhaustion as they trudged to the center in the 90 degree heat.
Then Mr. Chilton heard why they were destined for his office: they needed help paying their electric bills, which spiked this month – on account of the heat.
The federal government sends states around $5 billion a year to subsidize low-income households' heating and cooling bills. The government also reserves several hundred million dollars more, which it can distribute to states during weather emergencies, such as the heat wave that is currently scorching large swaths of the country.
But this year's federal budget slashed that emergency reserve by about two-thirds, from $590 million down to $200 million. By the time the heat wave arrived this month, the pool of emergency energy assistance money was empty.
"The administration has no tools to use," says Mark Wolfe, executive director of the National Energy Assistance Directors' Association, which represents the state administrators of the federally funded energy-assistance program.
Air conditioners and large fans can keep the summer heat at bay – but they also guzzle electricity and cause utility bills to soar. Unable to pay for power without government support, some low-income families and seniors try to brave the heat without fans or A/C.
"There's no reason for anyone to become sick or die because of bills," says Mr. Wolfe.
---