How Congress's high-stakes brinkmanship became the new normal
From Minnesota to the NFL to the halls of Congress, negotiations keep devolving into one high-stakes game of chicken after another, as public intransigence works against private compromise.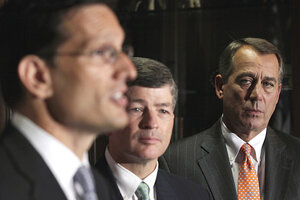 Carolyn Kaster / AP
The NFL player lockout, the Minnesota state government shutdown, the federal debt ceiling talks – in more and more arenas, high-stakes brinkmanship is starting to feel like the new normal.
While haggling and 11th-hour talks have always been hallmarks of business and political dealmaking, today's media-saturated playing field have pushed these eyeball-to-eyeball tactics to a new extreme, say experts.
Some blame the media spotlight, flooding the shady backrooms where deals were once made in secret and forcing all parties to stake public positions – that are then hard to retreat from. Others point to an increasingly narcissistic culture that encourages Americans to believe they can always "have it their way."
Whether it's tweeted or televised, today's media-saturated landscape "bathes any negotiations with a very harsh glare and tends to harden people's positions," says Gerald Skoning, a former Navy lawyer who specializes in labor law.
In "the ideal negotiation," he says, "you can secret yourself away and not have anyone second-guessing you as you go along."
During the 1980s, "President Reagan and Tip O'Neill had a relationship that allowed things to get done," says David Primo, associate professor of political science at the University of Rochester. "It could not, probably, be duplicated in the hothouse media of today."
Just look at the debt-ceiling standoff, says Melvin Dubnick, a political scientist at the University of New Hampshire. Compromise may yet emerge from all the grandstanding, he says, "but it won't be the same as it was under the old culture of Congress, where compromise was reached informally, often far away from the media glare, at a game of golf, or over lunch."
---
Follow Stories Like This
Get the Monitor stories you care about delivered to your inbox.