How to store nuclear waste? Panel slams US and urges new approach.
A presidential blue ribbon commission says the US government 'has not inspired confidence' and recommends that a new agency take over the search for storage sites for nuclear waste.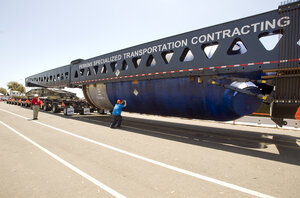 Jebb Harris/Orange County Register/AP
Saying the US government "has not inspired confidence or trust" in nuclear waste management, a presidential commission recommended Friday the creation of a new federal corporation to spearhead a "consent-based" approach to finding sites to store highly radioactive spent fuel and military waste.
The highly anticipated report by President Obama's Blue Ribbon Commission on America's Nuclear Future also calls for new interim storage facilities to hold used nuclear fuel until permanent underground repositories can be developed – and legislation to grant the new federal entity access to federal nuclear waste funds.
"The Blue Ribbon Commission concludes that the United States needs a new, integrated strategy for managing the back end of the nuclear fuel cycle, including, in particular, a new approach to siting nuclear waste storage and disposal facilities," the commission wrote.
Creating a new federal entity to take up the quest for a site is key since the Department of Energy's credibility has been damaged in the decades-long failed process of trying to open a permanent repository at Yucca Mountain, Nev. Efforts to site the repository at Yucca Mountain ran into persistent political roadblocks and technical faults. Finally, President Obama and the Department of Energy pulled the plug on Yucca in early 2010.
---
Follow Stories Like This
Get the Monitor stories you care about delivered to your inbox.