Tropical storm Emily moves west in Caribbean. Will it hit US coast?
Forecasters say tropical storm Emily poses a more immediate threat to the Dominican Republic and Cuba, but it could become a minimal hurricane off the east coast of Florida this weekend.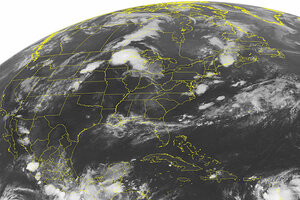 Weather Underground/AP
Tropical storm Emily – some 200 miles southeast of Puerto Rico and moving west – is being closely watched by weather forecasters who are trying to determine whether Emily becomes a hurricane that could have some effect on Florida or other parts of the East Coast.
Meteorologists believe the most immediate threat is to Cuba, the Dominican Republic, and possibly the Bahamas. In the current worst case scenario, they say, Emily becomes a low level hurricane that shakes the palm trees somewhere in Florida this coming weekend.
If Emily does come ashore, the storm would be the second this season to hit the US. At the end of last month, tropical storm Don came ashore in south Texas, but quickly lost its punch and dropped little rain on the drought-stricken state.
Emily is not expected to be the last tropical system to develop in the Atlantic Basin – the National Weather Service back in May forecast 12 to 18 named storms with six to 10 hurricanes and three to six major hurricanes.
---