Will Missouri 'Facebook Law' spook teachers away from social media?
Some say Missouri's new 'Facebook Law' blocks useful student-teacher communication. Others call it a new gloss on an old rule: Teachers shouldn't be too chummy with students.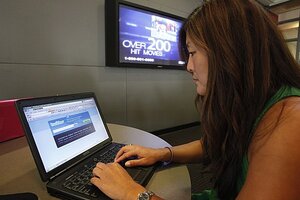 Damian Dovarganes / AP / File
Come Aug. 28, Missouri teachers and students can still discuss Shakespeare and last night's chemistry homework on social media services like Facebook.
But a new law – the first of its kind in the nation – will forbid "exclusive," or private, conversations between teachers and students on social media platforms, in an attempt to curtail the potential for inappropriate conversations, sexual harassment, or abuse.
In so doing, the Amy Hestir Student Protection Act raises important questions: What is appropriate online etiquette between students and teachers? And to what extent – if any – should social media be regulated, in an era when young people choose sites like Facebook and Twitter for information and communication?
"I think this law is an attempt to guard against the dangers of social media, a [classical] response to technology that, 'Oh, my gosh, this is going to ruin the world,' " says Charol Shakeshaft, a professor at Virginia Commonwealth University who researches sexual exploitation of children. "But it's also saying, more seriously, 'Let's think about how to make people aware' " of the technology's impact, including its potential to exploit children, she adds.
---