Stock market volatility: Dow jumps on jobs report, plunges, then rises again
Stock market gains early Friday morning were wiped out by noon, before another rally ensued. A better-than-expected jobs report gave some analysts hope that another recession could be averted.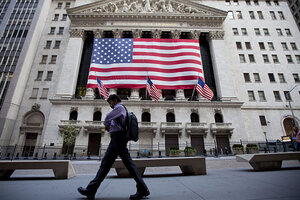 Jin Lee/AP
The US economy added more jobs in July than Wall Street economists had expected, giving an early-morning boost to the stock market Friday following the Dow Jones Industrial Average's 512 point tumble on Thursday.
But the gain was short-lived. By noon Friday, the Dow appeared to resume its freefall of the day before, dropping more than 220 points – a downward swing of nearly 400 points after gaining 164 points at the opening of trading. Then news that Italy had agreed to fiscal reform – European fears had fueled Thursday's fall – resulted in a sharp rally on Wall Street on a day of extreme volatility.
It could have been worse if the economy had actually lost jobs.
"If the numbers had come in on the soft side, it would have been a very dark day," says Mark Zandi, chief economist at Moody's Analytics.com in West Chester, Pa.
Despite the glum financial markets, some economists said the job gains were at least a brighter light for the economy. According to the Department of Labor, the nation added 117,000 jobs last month. The government also revised slightly upward the job gains for May and June.
The relatively modest increase in jobs, however, indicated that the economy is growing slowly.
At the same time as the economy added jobs, the unemployment rate in July dropped to 9.1 percent from 9.2 percent in June. But, the main reason for the slight drop was a reduction in the number of people who say they are looking for work. "It highlights how soft the job market remains," says Mr. Zandi.
The better-than-expected jobs numbers gave Zandi hope that the US economy would dodge a recession next year.
---