Flash mob attacks: Rising concern over black teen involvement
From Milwaukee to Philadelphia to Chicago, officials are enforcing curfews and requiring chaperones for teens, after several flash mob attacks allegedly involving black youths.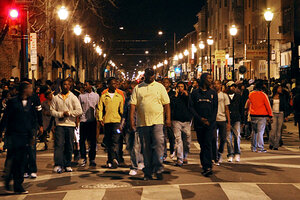 Laurence Kesterson/The Philadelphia Inquirer/AP/File
State police are roaming the Wisconsin State Fair in Milwaukee, looking for teenage troublemakers. Philadelphia is stepping up enforcement of a curfew for teens in the Center City business district. Chicago police have beefed up patrols along the city's "Miracle Mile" district in response to recent teenage "flash robs," some which police say were orchestrated via social media.
What connects the three city crackdowns are teen-perpetrated crimes that are part opportunistic, part thrill-seeking, and, some residents fear, part racially motivated: dozens of black teenagers collectively targeting, and attacking, white people they don't even know. Resentment fueled by dogged segregation, poor unemployment opportunities for young black men, and historic inequalities may all be playing into an atmosphere of racial discontent, sociologists say.
"[Mob violence] certainly doesn't seem to be a national problem, but [police are indicating] there's now reason to believe that it could potentially emerge as a problem," says Sean Varano, a criminologist at Roger Williams University, in Bristol, R.I.
---