Stock market plunges and soars. Is it acting irrationally?
Swings of hundreds of points up or down have investors wondering if the stock market is irrational. Analysts say the volatility reflects uncertainty about the economy. Get used to it.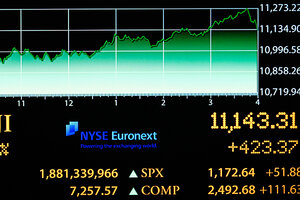 Brendan McDermid/Reuters
One day the stock market loses 500 points in a spate of pessimism. The next day the gloom lifts and the market swings back, rising 500 points.
The wild swings are enough to make investors wonder if the market is overreacting? Is it irrationally nervous?
On Thursday, investors could legitimately ask those questions as stocks went through another wild day. After dropping nearly 520 points on Wednesday, the Dow Jones Industrial Average soared almost 423 points on Thursday.
Stock market observers say the high level of volatility might well be around for a while. Over the long term, stock prices might begin to reflect the economy and corporate earnings. But, over the next few weeks, fasten your seatbelt.
Peter Coleman, director of research at JMP Securities in San Francisco, says the volatility is in part because of a high level of uncertainty over the future of the economy and the issues surrounding the financial stability of the European banks.
"The market is trading off every bit of information that comes out one way or the other," says Mr. Coleman, a market watcher for 19 years. "The market is going to continue to be volatile."
Another reason for volatility, says Pittsburgh investor Andre Weisbrod, CEO of STAAR Financial Advisors, is the stocks of many companies are screaming, "Buy Me," because their valuations have sunk so low but their balance sheets and earnings prospects appear good.
On Thursday CNBC reported that company executives had increased their purchases of their own companies' stocks. This is sometimes considered a sign they recognize a good bargain.
---
Follow Stories Like This
Get the Monitor stories you care about delivered to your inbox.