Will crash of hypersonic Falcon HTV-2 set back Pentagon's ambitious plans?
Thursday's test flight of the Falcon HTV-2 ended with signals lost and a crash landing into the Pacific – but not before it sent engineers half an hour of flight data. The Pentagon hopes the design will allow a non-nuclear response to threats anywhere in the world, within one hour.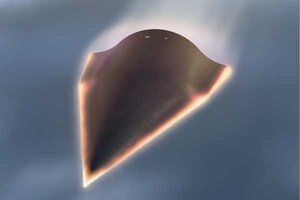 DARPA/AP
The latest prototype in the Pentagon's attempts to develop what is, in essence, a Mach 20 drone that can strike any target on earth within an hour, lasted no more than about 30 minutes before losing contact with ground stations Thursday.
That marks an improvement on the first prototype, launched in April 2010, which gathered data for about nine minutes before it began tumbling uncontrollably and crashed into the Pacific Ocean.
An arrowhead-shaped vehicle, the Falcon HTV-2 was laden with sensors to gather data on how the shape performs in the atmosphere as it travels between 17 and 22 times the speed of sound, or close to 4 miles per second.
This second mission was to have contributed "further insights into extremely high Mach regimes that we cannot fully replicate on the ground," said the project's program manager, Air Force Maj. Chris Schulz, in a prepared statement.
The initial flight plan was for the Falcon HTV-2 to separate from its rocket shortly after launch. Its built-in steering jets were to have oriented the craft to immediately reenter the atmosphere and glide to a splashdown near Kwajalein Atoll, part of the Pentagon's ballistic missile test range in the Pacific.
After the successful launch Thursday, however, officials at the Defense Advance Research Projects Agency (DARPA) lost contact with the vehicle during its glide stage.
---