Eurozone debt: Grave threat to US economy or imaginary boogeyman?
Under grimmest scenario, debt-burdened Greece, Ireland, Italy, and Spain can't pay what they owe to Eurozone banks, which then stumble, causing US banks to falter, too. But US banking system is stronger now, and regulators are more vigilant, say optimists.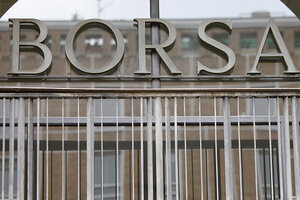 Antonio Calanni/AP
One big concern about the future direction of the US economy is not related to anything happening in the United States. Rather, the angst is over Europe –specifically the banking system in places like Paris, Frankfurt, and London.
Pessimists worry that the problems besetting some of the nations with weaker economies – such as Greece, Ireland, and Portugal – start to spread to larger nations such as Italy, Spain, and France. Under a worst-case scenario, once those nations start to have trouble borrowing more money, a domino-effect takes place with European banks failing, followed by another banking crisis in the US. This would lead to yet another recession – or worse.
Optimists believe the regulators are on top of the situation. Should another crisis take place, they expect that US Federal Reserve Chairman Ben Bernanke would open the Fed's spigots for European banks through existing credit facilities.
---