How authorities tracked the Australia collar-bomb suspect to Kentucky (video)
A string of clues has led to the arrest Tuesday of the man suspected of locking a hoax collar bomb around a teenage girl's neck in Australia two weeks ago.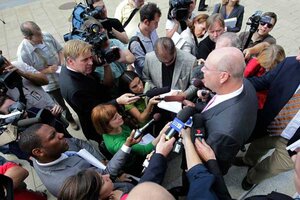 John Sommers II/REUTERS
The man suspected of locking a hoax collar bomb around a teenager in Australia two weeks ago has been arrested in Kentucky and is being held pending extradition to Sydney.
Paul Douglas Peters is facing charges that he locked what appeared to be an improvised explosive device around the neck of an 18-year-old high school student and demanded money from her family to disable the device.
Police said the girl's family had links to a business that had formerly employed Mr. Peters. He is described as an attorney and investment banker in Australia.
The girl, Madeleine Pulver, was hysterical as police conducted X-rays and other tests to study the device. After more than nine hours, authorities concluded the collar bomb was a hoax and that the device contained no explosives.
The investigation immediately turned to finding the suspected extortionist. A 12-page complaint filed in federal court in Louisville, Ky., details the investigation and reveals how authorities were able to quickly track Peters from Ms. Pulver's bedroom in Australia to his ex-wife's home in Kentucky.
An account of the crime
The alleged crime occurred at 2:15 p.m. on Aug. 3, when a man in a hooded mask walked into Pulver's bedroom with a backpack and a black baseball bat. "Sit down and no one needs to get hurt," the man told the alarmed teen.
He quickly used a chain and lock to attach what appeared to be an explosive device around her neck. He placed a lanyard with a computer flash drive and a hand-written note in a document sleeve around her neck as well. The man then left the house.
---