How could Virginia quake be felt in Canada and crack the Washington Monument?
Rocks of the East Coast conduct earthquakes much better than rocks in the West. It means a moderate quake in rural Virginia can travel far and damage the Washington Monument.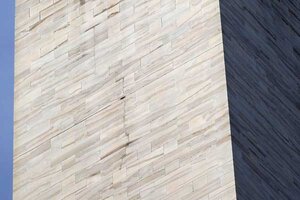 Charles Dharapak/AP
For most Washington residents, an earthquake in the nation's capital seems about as likely as a foot of snow in Malibu. And yet, as Tuesday's temblor shows, no region in the country is actually immune from the movement of the earth's crust.
As the 5.8 quake also reveals, East and West may be one geographical nation, but geologically speaking, they're as far apart as Hollywood and New Hampshire. The difference in geology is a main reason why the moderate earthquake centered near rural Mineral, Va., could cause a four-foot-long crack in the Washington Monument and be felt as far away as Toronto, while Western quakes, even if they are stronger, tend not to travel as far.
(The Washington Monument remains closed while the National Park Service awaits a damage assessment from structural engineers.)
The age of the rock is the first and biggest reason for the difference between East and West, says Mark Castner, director of the Braun-Ruddick Seismograph Station at Canisius College in Buffalo, N.Y.
The Sierra Nevada mountain range that dominates the West Coast pushed up some 40 to 60 million years ago, whereas the Appalachians date back 400 million years or more. The relatively recent and ongoing activity in the West means that there are 10 times more fractures in the surface rock – which tend to dampen earthquake transmission – than in the East.
---