Hurricane Irene strengthens, targets North Carolina, New England
After delivering a glancing blow Saturday to North Carolina's Outer Banks, hurricane Irene is projected to cross the eastern tip of Long Island and make landfall near the Connecticut-Rhode Island border overnight Sunday.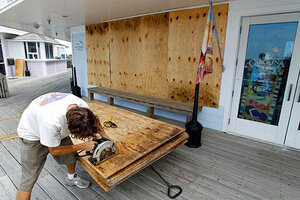 Jose Luis Magana/AP
Hurricane Irene strengthened to a Category 3 storm Wednesday morning as it worked its way into the Bahama islands following its encounter with Puerto Rico and Hispaniola.
Forecasters say they expect Irene to further strengthen over the next 24 hours.
Irene "got very well organized as she passed farther away from the big island of Hispaniola," says Bill Read, who heads the National Oceanic and Atmospheric Administration's National Hurricane Center in Miami.
Looking ahead to its effects on the US East Coast, the storm "will be a very large circulation as it moves north of the Carolinas" on Saturday, Dr. Read explained during a briefing on Wednesday. "The effects of the hurricane in the form of tropical-storm, maybe even hurricane-force winds, rain, beach erosion, and tidal surge will be in play from the mid-Atlantic all the way up through New England as the storm progresses."
At 11 a.m. EDT, Irene packed maximum sustained winds of 115 miles an hour with gusts to 130 miles an hour. Hurricane-force winds extended as far as 50 miles from the storm's eye, while tropical-storm force winds – between 33 and 73 miles an hour – extended as far as 205 miles from the storm's center.
Overnight, forecasters continued to nudge Irene's weekend track eastward.
The storm's center currently is projected to deliver a glancing blow Saturday to North Carolina's Outer Banks, with tropical-storm-force winds arriving as early as Saturday morning.
---