Virginia quake: What the numbers say, and what you experience
Virginia quake: It was a magnitude 5.9. Earthquake metrics help us compare different earthquakes, but what does a 5.0 versus a 6.0 actually feel like?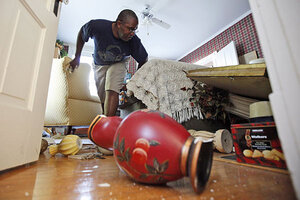 Steve Helber/AP
Immediately after the earthquake in Virginia, Tuesday, the Twittersphere was all abuzz about individuals' experiences.
People felt the 5.9 earthquake from Georgia to Massachusetts, and as far west as Ohio, and everywhere in-between. Many people in this part of the country didn't know what to think of the shaking. It's not often we get an earthquake here, and the last time Virginia had a similar earthquake was in 1897. That particular area of Virginia is only likely to see an earthquake that size once every 1,000 years, say seismologists.
So for those of us who didn't grow up near a fault line, we really don't know what earthquakes feel like. What is the difference between a 4.0 and a 5.0? Or a 5.0 and a 6.0?
First, forget the Richter scale. While still thought by many to be the metric for earthquakes, it was abandoned years ago for all medium and large earthquakes in favor of the "moment magnitude" scale (MMS). In MMS, the difference between two whole numbers, say a 5.0 quake and a 6.0 quake is a 1,000 percent.
Sometimes the numbers assigned to an earthquake these days do not include what metric is being used, but more likely than not, it is now MMS.
---