Washington Monument closed by East Coast earthquake. What else?
The iconic Washington Monument, on the National Mall, cracked at the top during Tuesday's East Coast earthquake and is closed 'for an indefinite period.' Other D.C. tourist spots, as well as some schools and government offices, are closed, too.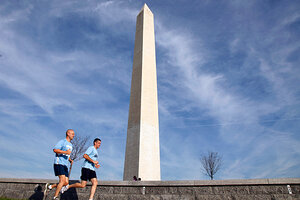 Charles Dharapak/AP
Tourists, government workers, and public school students in the Washington, D.C., area are feeling lingering effects of the 5.8 magnitude earthquake that rattled the East Coast Tuesday afternoon.
For tourists enjoying a sunny, late-summer Wednesday in the nation's capital, the most visible aftereffect of the quake is the iconic Washington Monument on the National Mall. The National Park Service closed the 555-foot-high stone spire, which is 127 years old, after discovering a crack at its very top. The park service said the monument, the world's largest obelisk, will remain closed for "an indefinite period of time."
The Smithsonian Institution Building on the Mall, which resembles a castle, also is closed, although various popular Smithsonian museums are open to tourists taking in the sights. The castle's closure came about as a result of cracks and broken glass at the popular tourist destination, which was built in 1857.
---