Rallying cry for hurricane Irene preparations: not Katrina, not again
Federal and state emergency managers are acting decisively in an attempt to avoid the mistakes of hurricane Katrina in 2005. The result has impacted millions of lives.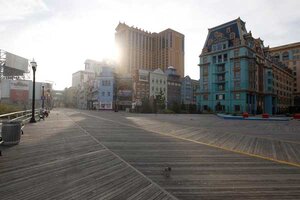 Jason Reed/REUTERS
Even before hurricane Irene makes landfall, it has already had a powerful impact on millions of Americans rushing to adjust their lives.
In part, this is no surprise for any hurricane targeting such a densely populated area, as residents rush out to snap up supplies of bottled water and D batteries.
But it also represents an attempt to apply the lessons of past emergency-management failures, particularly by federal agencies. With hurricane Irene's current path taking it directly toward the thickly settled Northeast corridor, the nation's emergency-response capacity is facing scrutiny not seen since hurricane Katrina in August 2005. Even as projections of the storm's clout weakened on Friday, the official response remained the same: not Katrina, not again.
For Washington's Department of Homeland Security and the Federal Emergency Management Agency (FEMA), shamed by a slow and inadequate response to Katrina in 2005, Irene presents a special test. The federal bureaucracy did not mobilize for Katrina – or even follow its own procedures for emergency response.
This time, Washington is pushing itself and local officials from the Carolinas to New England to get out ahead of the storm. The National Hurricane Center is mapping storm surges at a worst-case high-tide scenario, and FEMA mobilized assets along the storm paths days ahead.

"We're taking this storm very seriously, and I know that our state and local partners are as well," said Department of Homeland Security Secretary Janet Napolitano at a teleconference with reporters on Friday. "In fact, we've already seen a number of states declare emergencies even ahead of the storm."
---
Follow Stories Like This
Get the Monitor stories you care about delivered to your inbox.