Hurricane Irene: Why hurricane hyperbole never goes out of style
Where should the media draw the line between reasonable warnings and fear-mongering? A few mistakes and a partially missed prognosis aren't necessarily proof that the media blew the story.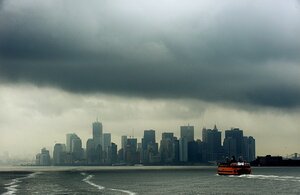 Newscom
On one 24-hour news channel, a correspondent described the calm before hurricane Irene as the calm before a B-movie zombie attack. One anchor proclaimed the storm to be "as big as Europe." Elsewhere, the hurricane was touted as the storm of a lifetime.
Storm hype is of course nothing new, neither is saying overwrought things when trying to fill up hours of airtime.
But as the hurricane approached, the fever pitch of the Irene coverage took on a life of its own, with government officials leading a chorus of caution even as closer watchers of the weather, especially on the ground in North Carolina, grew increasingly convinced that Irene would not strengthen, but steadily weaken instead into something closer to a massive tropical storm.
Hurricane prep: Are you smarter than a storm tracker? Take our quiz
On one network, "they are desperately trying to [show] a nail, a shingle, anything. It's getting embarrassing," one Internet commenter said as Irene's core made landfall with 74 mile-per-hour ground speed readings in many locations near its eye – right on the line between a tropical storm and a hurricane. Days earlier, forecasters believed a catastrophic Category 4 storm was a distinct possibility.
The fact is, hurricane Irene's massive, lumbering pace, heavy storm surge and driving rains is still spelling major trouble across mid-Atlantic states and into New England, downing power lines and threatening the New York City subway system, which the city closed, along with the rest of its mass transit system, for the first time in its history upon Irene's approach.
But the difference between damage predictions and the actual impact of Irene as it made landfall in eastern North Carolina was duly noted by some Americans, who felt the government and the media missed the call.
---