Hurricane Irene update: Major transportation systems shut down
With gusting winds, heavy rains, and major storm surges, hurricane Irene moved north toward major population centers, shutting down public transportation systems.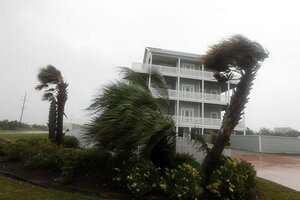 Jose Luis Magana/Reuters
Officials are telling people in hurricane Irene's path not to be complacent just because it's been downgraded to a Category 1 storm.
With winds gusting from 85-115 miles per hour, heavy rains, and predicted major storm surges, Irene still has the likelihood of cutting a major swath of damage as well as disruption for millions of people along the US east coast.
Weather Channel analysts speak of "local extreme impacts." Some 220,000 households and businesses are now without power.
Hurricane prep: Are you smarter than a storm tracker? Take our quiz
Evacuation orders now cover at least 2.3 million people, including 1 million in New Jersey, 315,000 in Maryland, 300,000 in North Carolina, 200,000 in Virginia, and 100,000 in Delaware, reports the Associated Press.
---