Hurricane Irene update: Now Category 1 but major impact still ahead
Hurricane Irene has been downgraded to a Category 1 storm. But as it makes landfall in North Carolina and heads north, it's still expected to pack a wallop with the greatest danger from flooding due to heavy rainfall and coastal storm surges.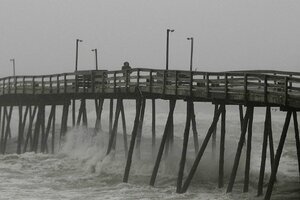 Charles Dharapak/AP
Hurricane Irene seemed to have lost some of its oomph as it approached the coast of North Carolina early Saturday morning, downgraded to a Category 1 storm with maximum sustained winds of 90 miles per hour.
Moving along at 14 miles toward the north-northeast, Irene was expected to make landfall near Atlantic Beach, North Carolina, between 8-10 a.m.
But the storm is not without fury, and it already has knocked out power for some 160,000 customers as it heads on its expected path toward the Mid-Atlantic States, New York, and New England.
Some trees were down along the hurricane's path, taking down power lines, and officials warned that the greatest damage could come from flooding as rainfall of up to 10 inches is predicted in some areas. Storm surges of up to 11 feet have been forecast as well.
In North Carolina, evacuations have been underway in 18 counties, and Gov. Bev Perdue has declared a state of emergency for all counties east of Interstate 95.
---