Hurricane Irene update: Storm claims its first lives
Hurricane Irene has caused a reported four deaths so far. Officials warn that storm surges and flooding could be greater because of the new moon arriving Sunday night.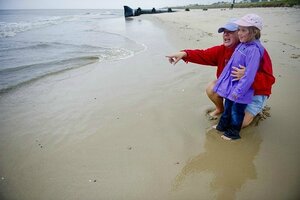 Ann Hermes/The Christian Science Monitor
Hurricane Irene now has caused the loss of several lives as it works its way north to New York and New England.
According to published reports, those include three in North Carolina and one in Virginia.
A motorist lost control of his vehicle and struck a tree, a man feeding livestock was struck by a tree limb, a man collapsed and died as he put plywood over his windows, and a boy was killed when a tree crashed into an apartment complex, reports CNN.
RECOMMENDED: First look at hurricane Irene: Thankfully, not a 'monster'
"This is a storm where, if you're in the wrong place at the wrong time, it could be fatal," New York Mayor Michael Bloomberg said in a press conference Saturday afternoon.
Although Irene was downgraded to a Category 1 hurricane, there's another natural event that's expected to exacerbate the potential for property damage and personal injury: the arrival of a new moon Sunday night.
During new and full moons, the gravitational pull between the earth and the moon intensifies, causing lower low tides and higher high tides. This can increase the power and level of storm surges flooding low-lying areas.
---