New York City storm surge: How high will the flood waters go?
New York City is bracing for a storm surge Sunday morning that could be four feet or more above the tides, according to storm surge models. It has evacuated parts of the city and shut down the airport and subways.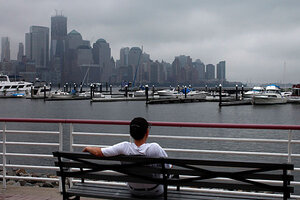 REUTERS/Kena Betancur
In an unprecedented move, New York City is evacuating nearly 400,000 residents of low-lying sections of Manhattan, Brooklyn, and Queens. Just as unprecedented, the city's airports and subways are being shut down, and Con Ed is warning that if it has to cut electricity to Wall Street, it could take three days to restore it.
The National Hurricane Center warned that hurricane Irene was still expected to arrive in New York Sunday night at or near hurricane strength.
The big concern: Storm surge.
The Miami-based National Hurricane Center has forecast a storm surge of up to 8 feet for Long Island and metropolitan New York when Irene passes, Reuters reports.
Storm surge is caused primarily by strong winds pushing on the surface of the water, creating a higher than normal tide. Other factors contributing to storm surge can be large amounts of rain, and in this case, a new moon on Sunday.
"Higher than normal astronomical tides are occurring this weekend," said Daniel Brown, a meteorologist for NOAA's National Hurricane Center. "Coastal and river flooding will be highest in areas where the peak surge occurs around the time of high tide."
---