Irene challenges forecasters on storm intensity
Tropical storm Irene illustrates improvements that forecasters have made in forecasting a hurricane's track. But it also highlights needed improvements in forecasting storm intensity.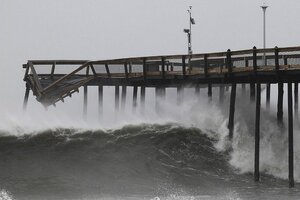 Molly Riley/Reuters
As tropical storm Irene spends what's left of its wind and rain over the Northeastern US, the rise and fall of the Atlantic season's first hurricane highlights improvements that forecasters have made over the past several decades in forecasting a storm's track.
But it also highlights the challenges that remain as researchers try to bring the same level of improvement to storm-intensity forecasts.
Within the next 10 years, research efforts sponsored by the National Oceanic and Atmospheric Administration aim to cut average track and intensity errors to 50 percent of what they were in 2008, according to Frank Marks Jr., director of the Hurricane Research Division at the Atlantic Meteorological and Oceanographic Laboratory in Miami.
At the same time, researchers are aiming to provide forecasters at the National Hurricane Center in Miami with the tools to extend their forecasts out to seven days from five days out today.
The efforts come against the backdrop of continued population growth along the coasts, as well as a warming climate.
Early last year, a team of tropical-climate specialists from the US, Australia, China, Japan, and India summarized the state of research into the tropical-cyclone connection to global warming.
---
Follow Stories Like This
Get the Monitor stories you care about delivered to your inbox.