Irene update: Did New York dodge a bullet?
The worst of tropical storm Irene has passed New York, and the impact wasn't as bad as it might have been. But officials say hazards still exist, including heavy flooding.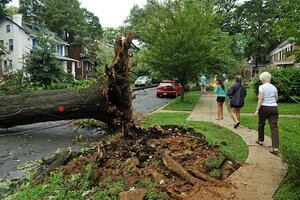 Newscom
The worst of tropical storm Irene – at least for New York and New Jersey – has passed, says Homeland Security Secretary Janet Napolitano.
And to many New Yorkers who caught glimpses of sunshine Sunday morning, their experience seemed to confirm that the Big Apple indeed had dodged a bullet – at least one of major caliber – as hurricane Irene was downgraded to tropical storm Irene.
"But even though the storm has been downgraded, it poses no less a threat to communities," Sec. Napolitano said at a news briefing Sunday morning. "Our number 1 message is that we're not out of the woods yet. Hazards persist in communities that already have seen the storm pass."
According to the National Hurricane Center, Irene is continuing on its path toward New England and Canada's Maritime Provinces at 26 miles per hour with sustained winds of 60 mph.
Bill Read, the hurricane center's director, says "heavy rains will continue to be an issue for upstate New York and New England." With a predicted 2-6 inches of rainfall, he says, some areas could see record levels of flooding.
Predictable natural events such as hurricanes and tropical storms involve three stages of official action: preparation, response, and recovery.
"We're really moving into response and damage assessment," Craig Fugate, director of the Federal Emergency Management Agency (FEMA), said at Sunday's briefing.
---