Irene update: Why New Yorkers face a rough commute Monday
New York's public transit was shut down ahead of tropical storm Irene. That may have saved trains and buses from damage, but flooding and downed trees mean the whole system has to be inspected.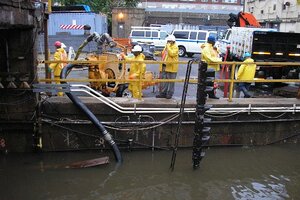 Reuters/Courtesy of MTA/Handout
When Mayor Michael Bloomberg told New Yorkers Sunday "you're going to have a tough commute in the morning," he wasn't kidding.
Tropical storm Irene may have been downgraded from hurricane status, and the mandatory evacuation order was lifted by mid-afternoon Sunday. But the prospect for a quick return to normal for the region's public transit system relied upon by hundreds of thousands of commuters remains less than slim.
"Transit workers were still waiting for winds to die down before they could inspect the entire system," the New York Times reported. "But an initial survey revealed flooded subway tracks, powerless commuter rail networks and fallen trees and branches that had rendered some rail routes impassable."
"The New Haven line of the Metro-North Railroad had no power because of downed wires along its route," the newspaper reported on its website. "Parts of the Metro-North track along the surging Hudson River were flooded. Subway lines in parts of Brooklyn were also inundated. Bus service remained suspended."
Meanwhile, major airports in the region remained closed, and airline officials said they didn't expect to begin operating until late Monday or Tuesday.
---