Irene leaves 5.5 million without power. Can power companies do better?
Some 5.5 million people were without power in the wake of hurricane Irene Monday, but damage-forecasting models aimed at improving power companies' response are showing promise.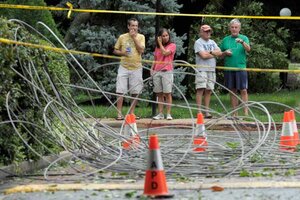 Susan Walsh/AP
With more than 5 million people without power Monday, hurricane Irene's impact is one of the widest ever, leaving infrastructure experts pondering how to do a better job helping power companies to anticipate outages and restore power more quickly.
As of Monday morning, a total of 5.5 million customers were without power, down from about 5.9 million Sunday, according to data from the US Department of Energy. Downed trees fell on power lines across more than a dozen states, and PJM Interconnect, one of the nation's largest electrical-system operators, has said fully restoring power in its region alone is expected to be a "lengthy" process due to the breadth of the outages.
Power companies are seeking ways to improve their performance. New digital forecasting systems tested on Irene promise to predict more accurately where and how much damage hurricane winds are likely to cause. Alternately, burying wires would keep them safe from storms.
But it is a problem that defies a simple solution, experts say. Utilities had good advance warning with Irene, spending nearly a week organizing response crews and borrowing equipment and personnel from as far away as Texas, according to the Electric Power Research Institute (EPRI), a nonprofit group. But there's only so much that can be done to respond to a storm of such size, some say.
"In a big event like this, there's all the damage the storm does, but afterward it's also a logistical nightmare getting enough people to get things fixed," says Tom Short, EPRI's researcher on distribution system reliability.
---