Could hurricane Irene help the economy? Rebuilding as stimulus.
Money spent to rebuild after hurricane Irene may slightly stimulate the economy, especially as a result of insurance payments. But most expenditures will merely be diverted from one area to another.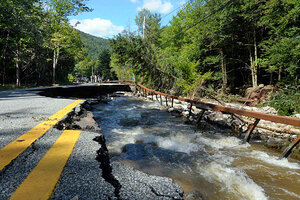 Hans Pennink/AP
After Hurricane Irene, will a rebuilding "stimulus" come next, or is the storm's financial legacy just another hit to beleaguered consumers, businesses, and local governments?

That's an important question, given the fragile status of the US economy.

Irene did less damage than many meteorologists feared, but it swept through the most densely populated region of a nation that many economists say is teetering not far from recession.

Economic forecasters generally say that what awaits is, at best, a very modest post-Irene stimulus.
---