Gulf fishing in crisis, but is BP oil spill to blame?
By many measures, fishing off the Louisiana coast is worse this year – but that's part of a long-term trend. The Gulf oil spill might be a factor, but perhaps not the primary one.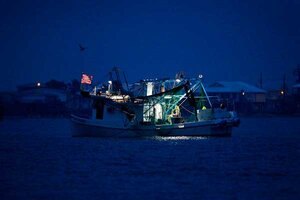 Patrick Semansky/AP/File
John Barrios sighs wearily after a full morning of shrimping in his 16-foot aluminum boat. His reddish-brown skin bears witness to a lifetime under a beating sun: He started drawing catch from these waters off a skiff in the 1930s.
He's tired, there are too few shrimp, and prices are so low that going out each day seems almost futile. "My time is up," he says.
Like many in southwestern Louisiana whose lives revolve around harvest seasons in the Gulf of Mexico, Mr. Barrios turned to oil giant BP for a cash settlement after 25 million gallons of crude – the largest oil spill in US history – sullied these waters last summer and made shrimping impossible. He walked away with $60,000 and, though the fishing still stinks, won't go back for more.
His reason: "The oil spill didn't hurt nothing. Before the oil spill, nobody was catching nothing."
It's difficult to calculate the spill's effect on an industry already hurting from decades of wetlands erosion and punishing hurricanes, scientists say. While fishing interests often insist that BP's malfeasance led to low shrimp prices and less public confidence in seafood safety, others say it will be years before the spill's impact on fish stocks is known.
---