Who released the trove of unredacted WikiLeaks documents?
As the battle of words continues over how the dump occurred, pundits say it is ironic to see WikiLeaks – a site devoted to exposing other people's secrets – getting a taste of its own medicine.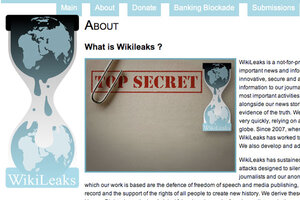 Screen capture/Wikileaks.org
Thursday's news that WikiLeaks's entire cache of 250,000 unredacted, classified US government documents has been unintentionally released directly onto the Internet has elicited groans and guffaws from both media and security analysts.
The sequence of events that led to the data dump – a trove of documents ranging from sensitive diplomatic cables to military field reports that could potentially put people, such as government informants, in jeopardy – is in hot dispute. WikiLeaks blames the British newspaper The Guardian. The Guardian says WikiLeaks is at fault.
As the battle of words over how the dump occurred wages on, pundits suggest it is an ironic cautionary tale to see the site devoted to exposing other people's secrets getting a taste of its own medicine.
"It is extremely ironic that a group which has devoted itself to undermining the rules of other organizations" is now complaining about violations of its own protocols, says Gene Grabowski , senior vice president of Levick Strategic Communications and manager of the firm's Crisis and Litigation Practice.
Whoever is responsible for making the cables freely available, this latest in a series of controversial document dumps stands as an important reminder of the difficulties inherent in cybersecurity in a digital age, say experts. And this security breach has put WikiLeaks once again under the close scrutiny of its critics.
---
Follow Stories Like This
Get the Monitor stories you care about delivered to your inbox.