New Orleans finds tropical storm Lee is no Katrina
So far, tropical storm Lee hasn't been a weather monster. Its rains brought relief to a drought in southern Louisiana and quenched a marsh fire that had blanketed New Orleans with smoke.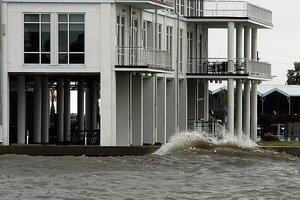 Newscom
New Orleans braced this weekend for its first direct dose of tropical weather since hurricane Katrina devastated the city six years ago.
Thankfully, tropical storm Lee has so far proven to be less of a weather monster than a Labor Day washout, its rains bringing relief to a longstanding drought in southern Louisiana and quenching a marsh fire that had blanketed metro New Orleans with smoke and sent scores of residents to local hospitals.
While the storm closed Grand Isle and other Gulf beaches for the holiday weekend – a blow to coastal areas that are still recovering from the economic disaster of last year's BP oil spill – New Orleans' French Quarter remained busy Sunday afternoon, with poncho-draped visitors venturing out between bands of rainfall.
Southern Decadence, an annual Labor Day gay pride event that usually draws over 100,000 visitors, went on as planned with a beauty contest and walking parade down Royal Street.
---