Obama's roles on New Jersey trip: consoler-in-chief and candidate
Visiting storm-torn parts of New Jersey Sunday, President Obama met a largely-friendly crowd that voted for him in 2008. But the state has also elected a high-profile Republican governor, and most people disapprove of his performance.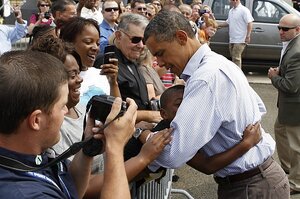 Kevin Lamarque/Reuters
During President Obama's whirlwind trip to New Jersey Sunday afternoon to examine tropical storm Irene recovery efforts, his roles as consoler-in-chief and candidate for re-election were both on display.
The trip took Mr. Obama to a state which supported him solidly in 2008 but which since has elected Chris Christie, a high-profile Republican, as governor. And a Quinnipiac University poll released in August found that 52 percent of New Jersey voters disapproved of Obama's performance in office.
But the President's critics did not seem to be those who turned out at Mr. Obama's three whirlwind stops in Wayne and Paterson, New Jersey. Friendly crowds lined the streets along his motorcade route and there were no overtly negative signs in sight. But one poignant sign along the president's route said "Help Us."
Accompanied by Gov. Christie, the President first headed to Fayette Avenue in Wayne. The residential area was hit by flooding from the Pompton River. Homes on both sides of the street were heavily damaged and there was debris – drywall, refrigerators, and siding – on both sides of the avenue.
The Secret Service blocked off the avenue and Obama walked along talking to residents. At 172 Fayette, Obama stopped to talk to Francisco Alarco, his wife, and two teen-aged sons. Their house was badly damaged. They had electricity but no telephone or cable service.
---