Texas wildfires leave survivors with little but gratitude to be alive
Texas wildfires that spread across Bastrop County this week have forced many residents into shelters, where they recount narrow escapes and retain an enduring hope for the future.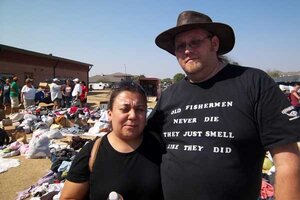 Mark Clayton/The Christian Science Monitor
"Pray for rain" reads the sign at a fast food restaurant on the highway six miles west of Bastrop, Texas.
"We love you Bastrop," says another sign just a few miles from the tiny Texas town at the center of the area that is now considered the hardest hit by historic wildfires in the state.
Since December, some 21,000 Texas wildfires have burned 3.6 million acres and more than 1,500 structures, including nearly 800 homes since Sunday. At its peak, a 14-mile-wide fire burned across Bastrop County, 25 miles east of Austin. The Bastrop fire now ranks as the single most destructive in Texas history.
State officials are looking to federal authorities for help. President Obama on Wednesday told Gov. Rick Perry federal authorities would act swiftly on the state's requests for aid. But in Bastrop, many people are just beginning to sort through changes in their lives that they cannot yet fully comprehend.
Acrid gray and brown smoke hung on the horizon Wednesday from a fire that, in recent days, has swept through numerous housing developments and is still only 30 percent under control. Tropical storm Lee brought no rain, but its winds fanned the flames into a curtain of fire that roared through the area, gobbling up drought-stricken trees, shrubs, and homes.
---